GME GR200WEP AM/FM/VHF Marine Radio Receiver PLUS SPEAKERS White
GME GR200WEP AM/FM/VHF Marine Radio Receiver PLUS SPEAKERS White
GME GR200B AM / FM / VHF Marine Radio Reciever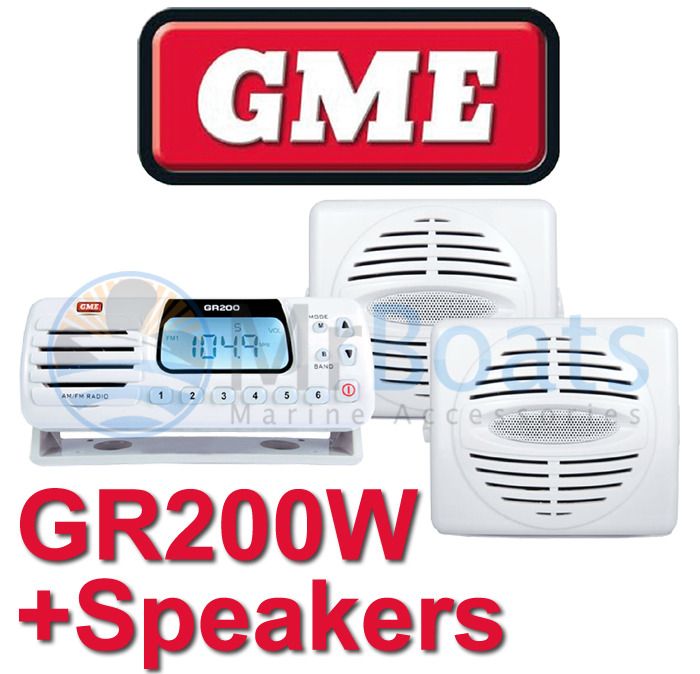 The GR200 is a powerful feature loaded entertainment option for boats where dash space is at a premium, and there is no requirement for playing CDs. The GR200 provides boaties with the benefit of true Stereo FM reception (when 2 external speakers are connected - Optional Not Supplied), it also has AM, LW, MW and SW reception.
The unit also has an integrated VHF marine band receiver with a user adjustable ¡°digital squelch control¡± giving clearer reception during marginal circumstances. All this in a unit that is only 70mm deep.
The GR200 also packs a knockout punch in terms of audio power, boasting an impressive 80 watts of output power when external speakers are connected, which should keep any discerning boater happy. The unit also has a single forward facing speaker when external speakers are not required.
Keeping abreast with today's technology, the GR200 has a 3.5mm input socket on the rear panel enabling easy connection to an MP3 player via an optional external lead (LE74), a direct connection to the headphone socket enables the MP3 player's audio to be selected and processed by the GR200.
The GR200 is a compact, water resistant broadcast receiver, which compliments GME's marine transceivers, not only is it compatible with Australian radio bands but also European, US and Canadian.
 
Receives FM/MW/LW/SW and VHF Marine Band

Ingress protection: IP55

FM stereo reception

Six preset frequency memories per band

Auxiliary audio input for MP3 player

Simple push-button controls

2 x 40 watts external speaker outputs

Large backlit LCD display
Frequency Range:

LW MW SW VHF AM FM

Channel Set:

Broadcast Radio Bands

Supply Voltage Range:

10.8 - 15.6 V DC negative earth

Current Protection:

2 A 3 AG fuse
Unit Dimensions:

164 (W) x 65 (H) x 77 (D) mm

Unit Weight:

360 g approx.

Flush Mounting Depth:

45 mm min.
Temperature Range:

-10¢ªC to +60¢ªC

Solar Radiation:

Case UV stabilised

Compass Safe Distance:

200 mm

External Connections

DC Supply:

2 Pin polarised plug socket

External Speaker:

3.5 mm mini phone jack
GME marine speakers are engineered to withstand the harsh marine environment, making them perfect for the outdoors. Install them on your boat, outdoor entertaining area or any outside situation where high quality audio is required.
Sized perfectly for discrete installation, the GME S3 is a great solution wherever flush mounting is not possible.
 
2 x 60W

Polypropylene woofer cone

Bracket mount box speakers

Speaker impedance: 4 Ohms

Salt spary fog compliant

UV Exposure compliant

3 year GME warranty
​
GR200W Radio White

Mounting bracket and Stainless Steel screws

Gimbal knobs

DC supply lead

Instruction manual

2 x Speakers

2 x Mounting brackets and hardware

2 x 5m Speaker Cable

4 x Gimbal knobs